If you're one of the lucky workplaces that still have staff working from home, ClassBento's virtual team building activities are a fun way to keep everyone close, this quarantine season. It's never been more important to keep staff morale high and with everyone working from home, engaging with your fellow employees - let alone humans - has become an increasingly rarer affair.
That's why our new LiveBox feature is perfect for turning your next Zoom meeting into a crafty team building activity that the virtual office can really sink their teeth into! Whether it's turning the webcams on and learning how to all make cotton face masks, or getting the office together for a bottle of wine and an art class via Zoom, our new LiveBox classes will deliver all the class materials and resources directly to your staff's door. And, with our own live stream, you'll be working in real-time with the class instructor, as well as each other. Need a bit of a hand choosing the best virtual team building exercises? Check out our top picks below.
Given how stressful 2020 has been already, practising meditation has never been more vital to supporting good mental health and wellbeing. Here at ClassBento, we highly recommend you spend a small amount of time meditating every day to make sure that you stay sane during self-isolation.
Collective meditation, however, is a wonderful way to bring the team a little closer, and relieve some of the mental weight that they're carrying. As far as virtual team building exercises go, group meditation is one of the few activities that may actually work better during quarantine. Although everyone is being guided by their instructor over webcam, every employee is in a space they feel comfortable: their home. That can make it easier to relax the mind and really focus on yourself and your own experience, without the subtle pressure of the whole office being there.
Being a 30-minute class, this workshop requires no resources to be delivered and is a simple effective method of bringing the office closer to each other and inner peace.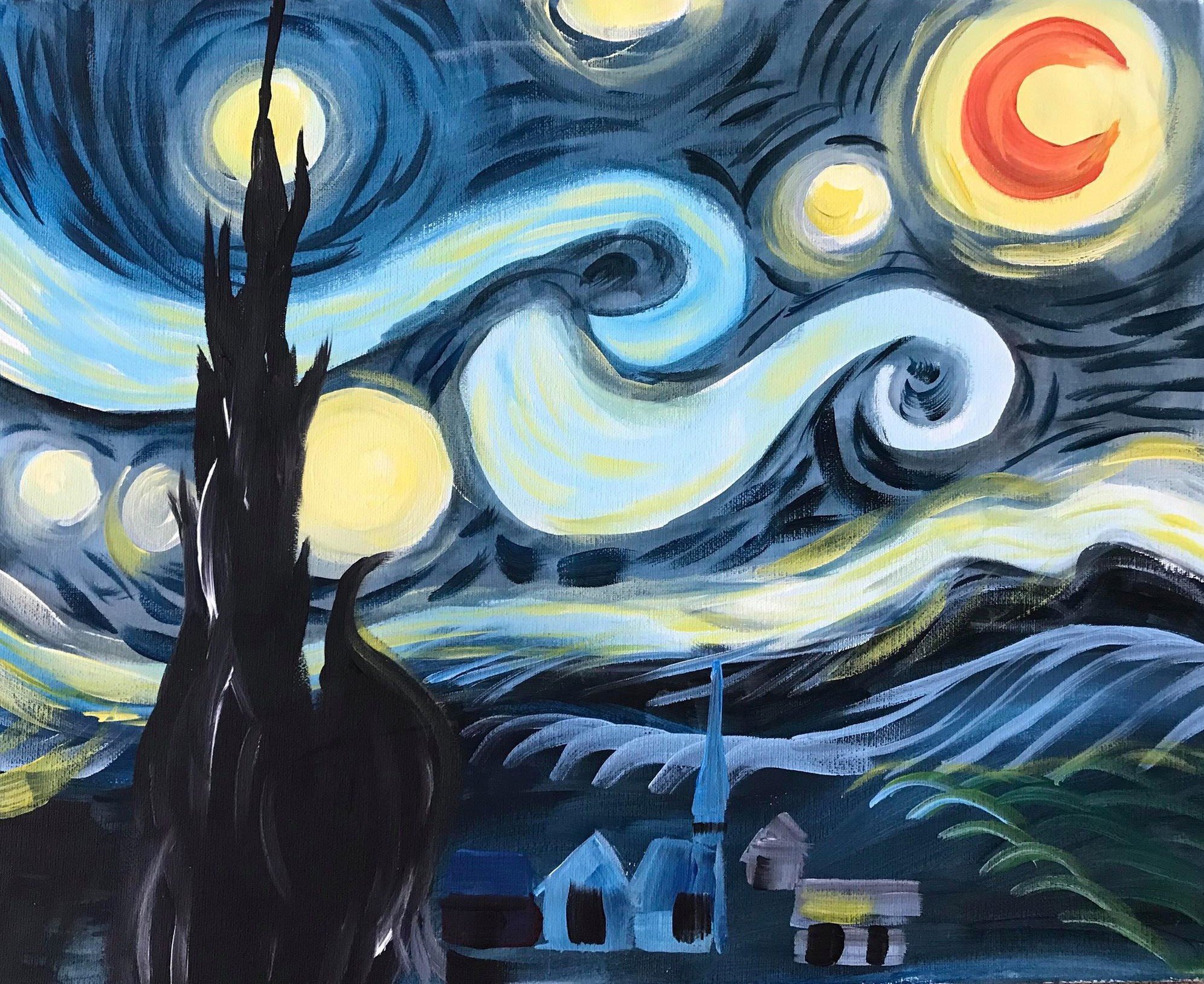 Paint for fun classes
Usually, you'd have to be in Melbourne to take full advantage of the expertise offered by the Paint For Fun workshop. Focusing on guided art classes and Paint N Sip evenings for beginners, Paint For Fun is one of ClassBento's most popular instructors in both Melbourne and Australia.
They offer a wide variety of painting classes that vary in both style and medium. Now, they've taken several of their classes online so you can get creative with your virtual team building activities! You and your team can learn the basics of painting whilst being shown how to colour your own masterpiece.
The classes range from painting an autumn tree to discovering Van Gogh's specific art techniques, to even painting your colleagues! With craft boxes containing all the basic tools needed (canvas, paints, brushes etc), your staff can paint along together via our Live Stream. This is one of the best virtual team-building exercises to book-end a hard week with, particularly considering a drop of wine can help the creativity.
Our Paint N Sip nights traditionally work as a fantastic office party activity because both the painting and the sipping complement each other in equal measure. With our virtual team-building exercises, you can have Friday office drinks over Zoom whilst all engaging the inner artiste!
We at ClassBento have certainly written about our punch needle embroidery class on more than a few occasions, but that's because it's one of the best LiveBox workshops we offer! Punch needle embroidery is the perfect place for beginners to start when it comes to learning stitching and embroidery craft!
Using a "thread pen", creating your own designs and patterns is as simple as choosing your thread and essentially "drawing" onto your chosen fabric. Because of its simplicity and creative freedom, it makes for a great launching point for learning to knit and stitch. With our live stream classes, your team can all learn how to stitch together with the guidance of a certified craft master!
With the craft box delivery, your staff can keep stitching after the class is finished. One of the many benefits to this is that by keeping employees engaged outside of work, you can help them fight off the stir-craziness that comes with being confined to self-isolation.
Terrarium making classes have always been one of our most popular team building activities, so it makes sense that we'd recommend them as one of the premium virtual team building activities on offer. Building a terrarium is an engaging method of discovering how a basic eco-system works and a unique piece of decor for you to add to the house!
Using our live stream, you and the team can build your own terrariums together. Adding greenery to your home or workspace has been proven to not only purify the air but reduce depression and anxiety in individuals by up to 40 per cent. Not only this but learning a new skill that employs both the creative side of the brain and motor function produces white matter in the brain, which has been found to fight degenerative diseases such as Alzheimer's and dementia.
Looking for remote team building activities feels awkward, but we promise that once you and the team dive into it, it'll change the way you Zoom. ClassBento's new LiveBox feature will bring you all closer together without compromising your health and safety. Whether it's painting a masterpiece with a bottle of red or constructing your own eco-system, our virtual team building activities will keep the staff engaged and focused this quarantine season.