If your staff have been working remotely due to lockdown, virtual team building activities are a fun way to keep everyone close and connected during quarantine. It's never been more important to keep staff morale high and with everyone working from home, engaging with your fellow employees – let alone other humans – has become an increasingly rarer affair.
If you and the office are returning to Sydney lockdown, it's never been more crucial to check in with your employees and ensure that their spirits are staying high. Self-isolation can be emotionally taxing, and having to repeat it can really knock the wind out of your employee's sails.
With online classes and DIY kits, you and your colleagues can get creative with art, craft and cooking lockdown activities and avoid lockdown burnout. Instead of the same old Zoom meeting, try crafty team building activities that your virtual office can really sink their teeth into! Whether it's turning the webcams on and learning how to make ceramics, or getting the office together with glasses of wine in hand at a paint party via Zoom, there are so many ways to keep connected, and with all the materials you'll need delivered directly to your staff's door and a qualified local maker leading your virtual class, even absolute beginners will be able to make something incredible. Need a bit of a hand choosing the best virtual team building exercises? Check out our top picks below to get your team through the Greater Sydney lockdown.
Paint and Sip The Night Away
You may have tried an in person paint and sip class before and found it to be a fun and social experience. Well guess what? With online classes, you can get the same experience at home, snuggled up in the comfort of your own lounge room! Whether your team is full of brilliant creatives with an eye for detail or absolute beginners who have never held a paintbrush in their life, a sip and paint class is an exciting, creative experience for everyone. You'll be guided by local artists from Paint For Fun, Life With Paint or Ladder Art Space, and learn how to paint dreamy landscapes, human portraits or anything your team can think of!
With these indoor activities, you'll be able to select from a wide variety of painting classes that vary in both style and medium. Painting kits will be delivered door-to-door in preparation for your class so that you can get creative with these virtual team building activities that everyone will love. Learn painting basics whilst being shown how to colour your own masterpiece.
These paint and sip classes range from painting an autumn tree to discovering Van Gogh's specific art techniques and even learning how to paint your colleagues! These are some of the best virtual team building exercises to finish off a week of working from home, particularly with a drop of wine, which can really help you to relax and get creative.
Sip and paint nights traditionally work as a fantastic office party activity because both the painting and the sipping complement each other in equal measure. With virtual team building exercises, you can have Friday office drinks over Zoom whilst all engaging the inner artiste!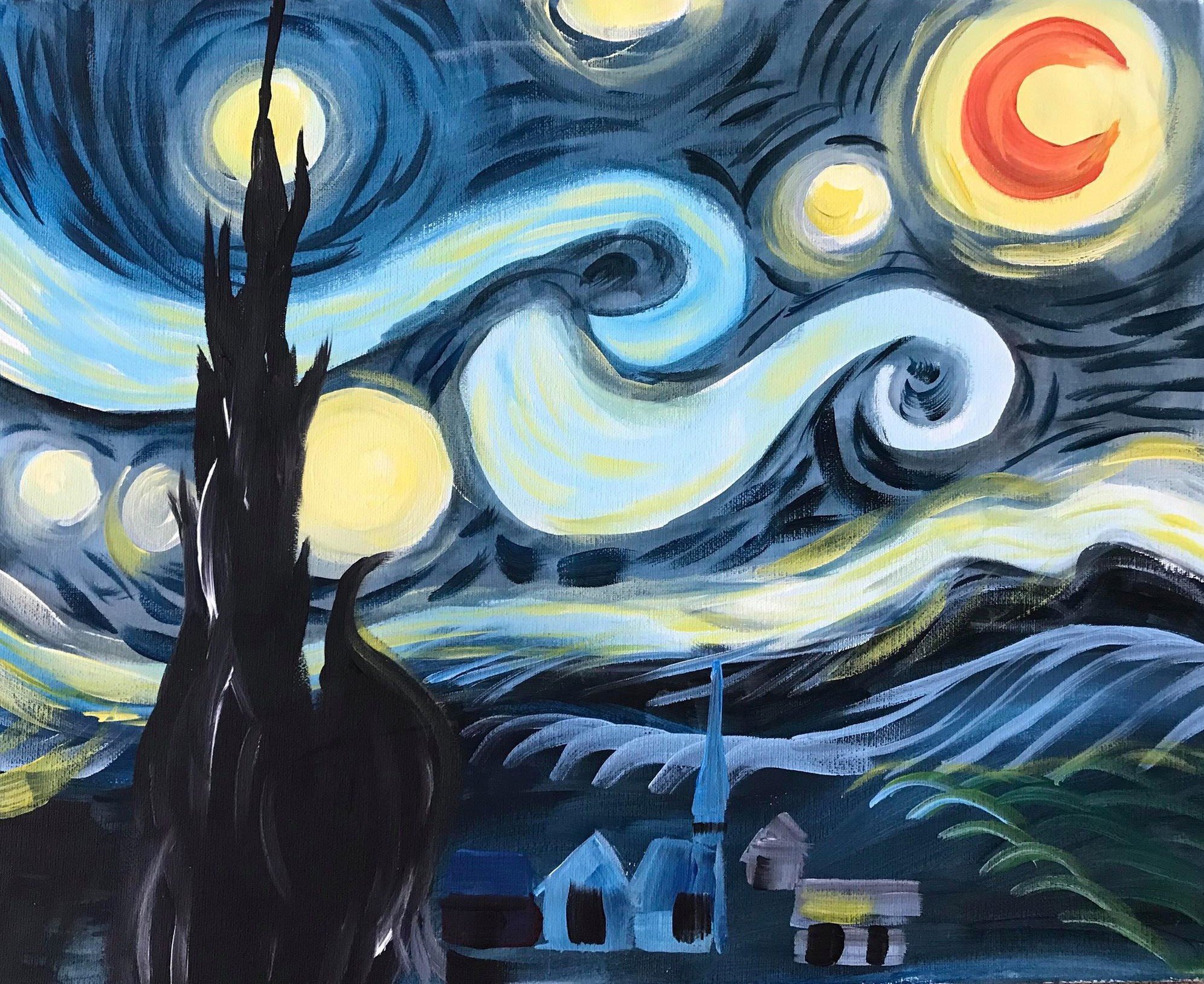 Team building activities come in all shapes and sizes, and sometimes you just need to collectively blow off some steam. A staple of so many offices, Friday drinks can still be enjoyed over a live stream, and even turned into a constructive team building event! Kubarz and Tippled run virtual cocktail making classes that you can all enjoy together and are one of the best things to do in Sydney lockdown! With a full cocktail making kit delivered straight to your employee's doors, they'll be shaking up a storm together with a mixologist showing everyone the ropes. If your team is returning to working from home, these lockdown activities will really raise their spirits.
Build Your Own Terrarium or Make a Kokedama
Terrarium making classes have always been one of the most popular team building activities, so it makes sense that they've made it onto this list. Building a terrarium is an engaging method of discovering how a basic eco-system works and a unique piece of living decor for you to add to the house and admire while you're stuck inside.
Thanks to our live-streaming, indoor activities, you and the team can learn how to make DIY terrariums together. Adding greenery to your home or workspace has been proven to not only purify the air but reduce depression and anxiety in individuals by up to 40 per cent. Not only this, but learning a new skill that employs both the creative side of the brain and motor function produces white matter in the brain, which has been found to fight degenerative diseases such as Alzheimer's and dementia.
If you're looking for something a bit more unique but just as fun, have a go at wrapping up some Kokedama plants! This ancient, Japanese practice is a great way to get playful with plants and dirt and is great for improving your team's mindfulness. As you wind the string around your Japanese moss ball, you'll feel a great sense of calm and connection to nature and whenever you see your sweet creation in your home you'll be reminded of this peaceful state again and again.
Learn How to Cook Something Delicious
Just because you can't have work lunches right now doesn't mean you can't enjoy great food with your team. At an online cooking class you and your colleagues can learn how to cook crowd favourites from the comfort of everyone's home kitchens. Try pasta making with Marina Totta and make Italian style ravioli or tortellini or experiment with beautiful spices and flavours at an Indian cooking class with The Modern Desi. If you and your team are beginner chefs, learn cooking for team building with iFresh Corporate Pantry. With fresh, seasonal produce delivered to your door all you'll need to have is a few simple pieces of kitchen equipment to get started. You won't have to ask Google for lockdown meal ideas any longer!
Make Your Own Sourdough Bread
There's a reason why making artisan sourdough is one of the go-to lockdown activities. Your fresh, homemade bread will not only be warm and delicious, it's also something you can easily learn how to make under the guidance of an experienced baker. Get your sourdough starters right from the beginning with Yoke from Wild Sourdough and introduce your team to the wonderful, versatile world of fermented breads. There's nothing more satisfying than cutting into your homemade sourdough loaf and revealing a puffy, light and soft interior... that is until the taste test comes!
Learn How to Meditate at Home
The sudden nature of the Greater Sydney lockdown is something that would send anyone into a tizzy, which is why practising meditation has never been more vital to supporting good mental health and wellbeing. Spending time focusing on self-care from within is a great way to make sure you remain positive and upbeat during this time, so that when things go back to normal you are ready to take on the world as you always do.
Collective meditation, as well, is a wonderful way to bring the team a little closer, and relieve some of the mental weight that they're carrying. As far as virtual team building exercises go, group meditation is one of the few activities that may actually work better during quarantine. Although everyone is being guided by their instructor over a webcam, every employee is in a space they feel comfortable: their home. That can make it easier to relax the mind and really focus on yourself and your own experience, without the subtle pressure of the whole office being there.
If you are looking for more unique online classes, try out watercolour meditation with Vanessa Opazo or if your team are after the more traditional lotus position meditations, give a class with Yvette Swan or Mind Body Energy a go. These virtual experiences usually require just yourself, your laptop and a comfortable space and are a simple and effective way to bring the office closer to each other and inner peace. A meditation workshop is easily one of the best things to do in Sydney quarantine with your colleagues!
Try Out Punch Needle Embroidery
Get your team feeling creative with a DIY craft they can do at any time with a punch needle embroidery class. Learning this textile craft is a great way to keep focused and pass the time as you create something beautiful and unique. Designed with absolute beginners in mind, a punch needle embroidery kit and class from Narda Campbell Designs or Craft Make Do is the perfect way to learn stitching and embroidery at home.
Using a 'thread pen', creating your own designs and patterns is as simple as choosing your thread and essentially 'drawing' onto your chosen fabric. Because of its simplicity and creative freedom, it makes for a great launching point for learning how to knit and stitch. With these live-streaming classes, your team can all learn how to stitch together with the guidance of an experienced textile master!
You'll receive all the tools you'll need in your first DIY kit, so you and your staff can continue stitching long after your class is finished. One of the many benefits to this is that by keeping employees engaged outside of work, you can help them fight off the stir-craziness that comes with being confined to self-isolation.
Looking for remote team building activities feels awkward, but we promise that once you and the team dive into it, it'll change the way you Zoom. Virtual classes and kits will bring you all closer together without compromising your health and safety. Whether it's painting a masterpiece with a bottle of red or constructing your own ecosystem, these virtual team building activities will keep your staff feeling engaged and focused during Sydney quarantine.
Suggested workshops - Virtual with Kits