Chasing fun activities for virtual teams working remotely isn't a hindrance, it's an opportunity. ClassBento has some incredible virtual team building activities to keep that workplace wellbeing pumping even if the workplace is closed! Keeping the staff in touch with each other and the office culture thriving is crucial during these pandemic days, but it's important to pick the right team builders for your particular team. After all, you know them better than we do, but maybe we can nudge you in the right direction…
Virtual team builders for smaller squads
Got a smaller office? Working with a tight-knit team has incredible benefits, and it can make team building in lockdown more effective than ever, particularly if a solid rapport has already been built. It takes time to establish a positive workplace culture, but once it's been established, it becomes easier and easier to maintain. Here are a few virtual team builders to help your super squad stay close when they're far away.
Virtual after-work drinks
Ok, let's cut the jargon here, for a second. Every single one of these virtual team building activities articles we publish contains the suggestion of virtual cocktail making classes and that is because they are awesome.
They taste delicious, they're festive, and everyone gets a buzz on together. As far as small fun activities for employees are concerned, it's hard to go past a virtual mixology class. ClassBento has a wide range (and only getting wider) of live classes online that can show you and your office posse how to shake up a killer margarita, martini or cosmopolitan. Maintaining positive health and wellbeing in the workplace takes many forms, but a big part of it is allowing your staff to relax around each other and let their hair down, even if it is just over Zoom. With in-person after-work drinks in short supply during quarantine season, indulging in a cocktail class is the next best thing. With a variety of styles, flavours and options, you can pick the best mixology class for your virtual teams.

Light up together
Candle making workshops are one of the best quick and easy virtual team builders for small groups on a busy schedule. Taking care of your staff's working environment is damn-near impossible without the office, but there are small ways you can help their at-home workspace stay fresh and vibrant. Candlemaking is one of the best live classes online that offers therapeutic benefits without taking up too much of the day. With a craft box containing all the materials sent straight to your team's doors, you'll be able to get all the aromatherapy needed together in under an hour. That's not to say it's a rushed class; more of a quick relaxation for virtual teams under the pump. With a fun and engaging artist showing the ropes - or wicks, rather - this is one of the best choices when it comes to team building in lockdown that won't consume the whole day.
Discover more ways to keep your remote team motivated here.
Virtual team builders for big offices
Looking to cater for a sizeable squad? Not only is workplace wellbeing more of a challenge in a large office team, getting them together for online games for remote teams is even harder. Don't sweat it, though, we have artisans and workshop practitioners who have perfected the art of getting your spread-out super squad into a tight-knit team.
Get painting together
Our paint and sip nights are some of the best virtual team building activities on offer, anywhere in Australia. Combining artistic panache with a few glasses of wine, our live classes online are available to teams from Sydney to Perth! Paint and sip classes are fantastic for small and large groups alike, but what makes them so perfect for large groups is their balance between the festive and the artistic. Some individuals get a little self-conscious about their creative abilities, but with an artist on standby to help instruct even the least artistically-inclined folks and an increase in numbers to help swarm the self-consciousness away, your team can relax into the activity from the comfort of their own living room, drinking their own booze, painting their own way.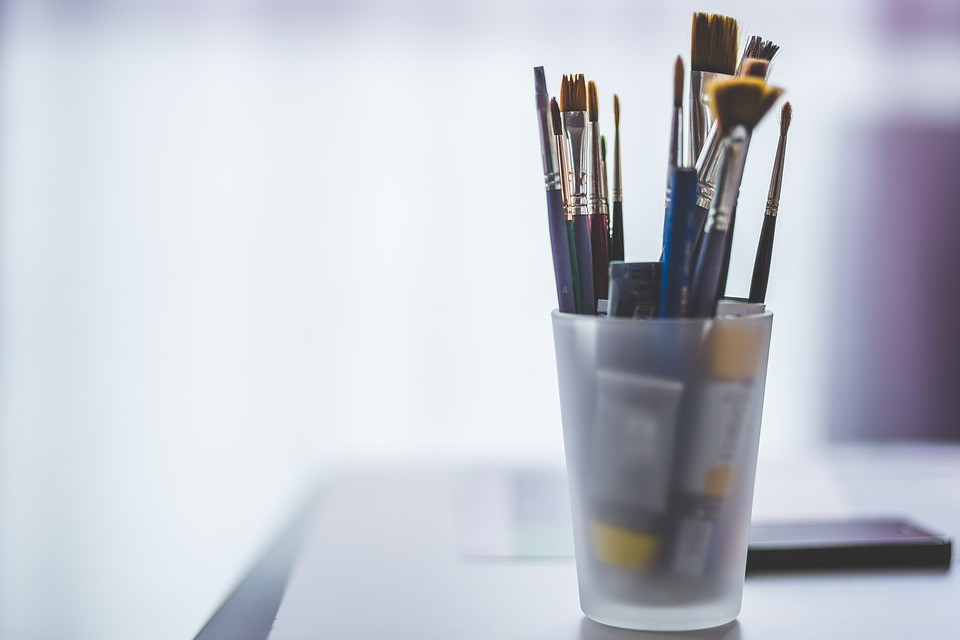 Go green
Terrarium making is more than just a botanist's favourite hobby.
Building and designing your own terrarium makes for one of the best virtual team builders for large groups because it adds something to the home workspace. Much like candlemaking, terrarium building helps reinvigorate your individual work environment by adding a touch of greenery and nature, whilst also improving the quality of oxygen. Not just this, but working with natural soils and plants has been scientifically proven to boost your mood! The mycobacterium vaccae that exists in even small amounts of soil has been found to aid your brain's ability to produce serotonin. Don't worry, you don't have to eat it. It gets naturally inhaled as you work, making this more than just an aid to your positive workplace culture, but a personal mood booster for each one of your staff! Our terrarium workshops cater for a wide range of corporate clients, so get the team getting their hands dirty together.
However you choose to get your staff bonding, our virtual team builders can help you put your best foot forward and keep that workplace wellbeing pumping! Most of our corporate team builders can cater for hundreds of people at a time, so never hesitate to contact us if you're dealing with a particularly large office group.
You know your team better than we do, that's why ClassBento's ever-expanding range of fun virtual team icebreakers are some of the best things to do at home for your remote teams, no matter where in Australia you all may be.