Add personality and flair to your space with pottery classes in Brisbane! Whether you're after decorative pieces for your WFH office space, clay planters or lanterns for your garden or even practical ceramic bowls and cups for your kitchen, these Brisbane activities will allow you to make unique homewares as you learn pottery skills and socialise with likeminded creatives.
Play with clay and sip wine as you let your imagination roam at a hand building class or craft a ceramic vase at a wheel throwing workshop. Each of these beginner-friendly pottery classes are led by passionate and experienced makers, excited to share their skills and help you create your own ceramic art.
On the lookout for unique experiences for your next social event? Empower your colleagues at a beginner's pottery class. Designed for everyone, these fun team building activities in Brisbane will allow you to make more meaningful connections with your workmates as you enjoy the tactile nature of clay hand building or pottery throwing.
Ready to sink your hands into clay? Check out all the unique homewares you can make at pottery classes in Brisbane below!
Ignite your creativity at a clay and sip class
If you're searching for must do Brisbane activities then look no further than this clay and sip pottery class with Jenna Abbasi. Guided by Jenna, you'll learn how to sculpt and pinch pots as you sip BYO wine and catch up with friends.
Aimed at the more casual student, this hand building class allows you to get more experimental. Though you'll be given some guidance and tips from your teacher, you have the creative freedom to sculpt anything from trinket dishes to clay faces.
The laidback nature of this pottery workshop makes it the ideal place to catch up with your colleagues for team building or gather the girls for a hens night. What could be better than socialising as you sip and sculpt?
Make your garden shine with a pottery lantern
If you love Japanese culture then you'll be a big fan of this Japanese lantern pottery workshop with Alvin Alejo in Geebung. Sculpt and mould clay into a gorgeous ceramic lantern and engrave into it your name or an uplifting word such as 'peace' or 'happiness' in Japanese characters.
After your piece is glazed and fired, you'll be able to display it in a sunny spot in your garden where it can be solar-charged to brighten up your nights.
Create a clay bouquet in the Brisbane CBD
Make flowers that'll last forever in this floral decorations clay and sip class with Wesley Taylor Art Studios. At these laidback pottery classes in Brisbane, you'll learn hand building techniques to form beautiful ceramic flowers using air drying clay.
Squish and pinch your clay creations as you sip BYO wine and enjoy a night of relaxation and socialising.
Bring some greenery into your space with a clay planter
Give your plants a stylish home with this clay planter workshop in Paddington. Guided by the makers from Kubist Design, you'll use polymer clay to make a hanging planter with a personality as unique as your own.
Along with learning polymer clay techniques such as marbling and colouring, you'll also discover some useful plant care basics to ensure the longevity of your new air plants, cacti or succulents.
Searching for fun birthday party ideas? This interactive hand building class will ensure that everyone in your group feels extra special, with an individual keepsake to take home.
Add a unique touch to your space with a clay face planter
After more unique things to do in Brisbane? This clay face planter class in Woolloongabba is sure to tick all the boxes. Using slab, hand building and joining techniques, you'll create a planter with an abstract face that'll add a distinctive look to your home office or living space.
Get colourful and creative with pottery painting and glazing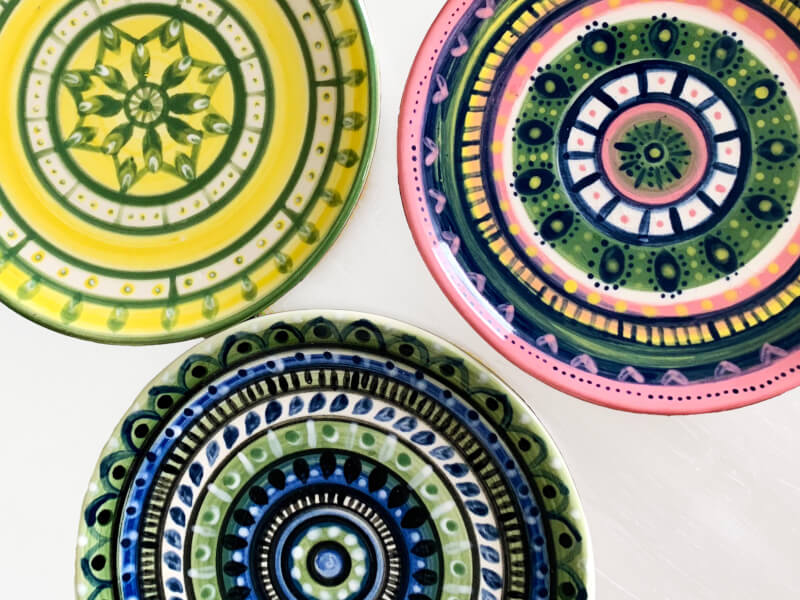 Learn how to paint pottery and make gorgeous ceramic art at this ceramic painting class in Fortitude Valley. Using vibrant colours and soothing patterns, you'll create a ceramic plate design that is sure to make your living space more inviting.
Or make practical homewares at this pottery glazing class with Windmill Pottery in Sheldon. During this two hour experience, you'll be given four pots to decorate with colourful glazes. In between coats, socialise with others, relax in the studio's coffee garden or browse their gallery. This class is perfect if you're looking for relaxing Redland experiences, just a thirty-minute drive from the Brisbane CBD.
Play with porcelain as you sip champagne
On the hunt for classy hens party ideas? Indulge in a day of porcelain, champagne and flowers at this hand building class and create mindful memories with your favourite ladies. Guided by florist and ceramicist Grace Ellen, your group will learn the art of creating with porcelain as well as imprint your ceramics with gorgeous florals.
Held in a light-filled ceramic studio, this porcelain pottery workshop will have you and your besties feeling completely relaxed and refreshed before the big day. As you play with porcelain and flowers, enjoy a complimentary glass of champagne and delicious tapas.
Stop scrolling for 'pottery classes near me' and instead try something a little different with these pottery classes in Brisbane. Whether you choose to play with clay and sip wine or try your hand at pottery painting, you'll return home with unique ceramic art that will enhance your indoor and outdoor living space and empower you to continue DIY pottery!
Ready to dive in? Discover 10 things pottery classes in Brisbane will teach you.
Pottery workshops in Brisbane