You're standing in the Australian bush and catch the scent of eucalyptus in the breeze. The birds are chattering away and you're right back there in holiday bliss.
Inhale again and you're transported to your favourite local cafe. You close your eyes and smile as you breathe in freshly ground coffee beans.
These are the moments Jig and Meera — founders of This Candle — hope to evoke at their feel-good classes in bustling North Sydney.
In the space of just over a year, the couple has gone from working nine to five jobs in medicine and software to bringing people together over wicks, wine and cheese! So, how did they do it? By tapping into their creativity and applying their scientific minds to the task. The result? An entirely new take on candle-making that gave them more than they ever expected!
Keep reading to find out how Jig and Meera transformed their obsession with candles into a successful business and the uplifting life lessons they learned along the way.
Take the plunge
Both Jig and Meera had ambitions to become candle-makers, but this was purely coincidental.
"We actually went for coffee," Jig recalls. "We were like, hey, I've been thinking about something. Then [Meera] was like 'oh, I've been thinking about something too'. And it just so happened to be candles!"
"I think candles are very personal," Jig says. "It doesn't really matter what other people think – it's definitely about how it makes you feel. And essentially if you're lighting it, it makes you feel safe, warm, happy, all the good feelings. Then that's the perfect candle."
Follow your nose
Jig and Meera believe that with candle making, everything comes back to that perfect smell.
Meera's preferred scents are Oudhs and dessert-themed candles like buttered popcorn. She likes candles that give you a warm feeling during winter and provide comfort.
As for Jig, he loves to bring the outside in, "I love Australian florals. The psychology of feeling like I've just walked into an Australian florist. The memories just come rushing back."
Scent-sational fact

Did you know that when you're smelling, the scent is being transmitted directly to your limbic system, the part of your brain that houses memories and emotions?

This allows scents to trigger emotions and powerful memories before even reaching the part of your brain that processes thoughts and logic. Pretty cool, huh?
Learn from your mistakes
Despite their shared dream, the pair weren't smelling their best candles instantly. It took time before they'd mastered their formula, but they used their mistakes to help them grow.
From unwanted water bubbles in jars to not curing their candles for long enough, Meera and Jig certainly experienced some memorable fails.
"We've figured it out [from our mistakes] to the best of our ability and agreed to tell everyone so they don't have to go through what we did," Jig says.
Share what you love with others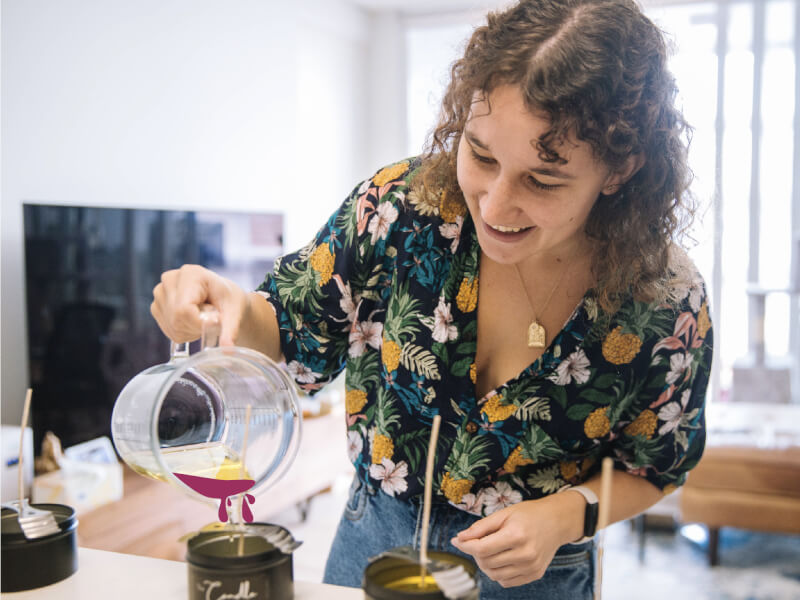 A huge highlight that comes out of melting and pouring wax with This Candle is learning all the exciting, scientific facts that the pair have used to create their own unique formula. The two describe their classes as "a safe space to really be candle nerds".
Along with their knowledge of how to create the ultimate triple-scented candle, you'll also learn all about their signature cold throw technique. A must-know for anyone who wants to fill their room with beautiful fragrances all year round!
Don't be afraid to try new things
Although feeling calm is a big bonus of making candles, Jig and Meera insist that the process can be fun and energetic as well. It's their secret weapon for busting the stereotype that candles can only be feminine and encouraging more men to pour their love into candle-making!
"I think [men] think it's going to be boring or very clinical. And there's not much excitement to it," Meera explains, "but I think when they get here and they get to actually be part of it and make it fun, that's what they really like about it."
"It gets a bit chaotic, but the chaos is what kind of makes it," Jig adds, "cause you've got wine, you got cheese and then it just builds to the fact that you've got your final product at the end and it's almost like… sweat off your forehead. We made it, but we made it together."
Find your balance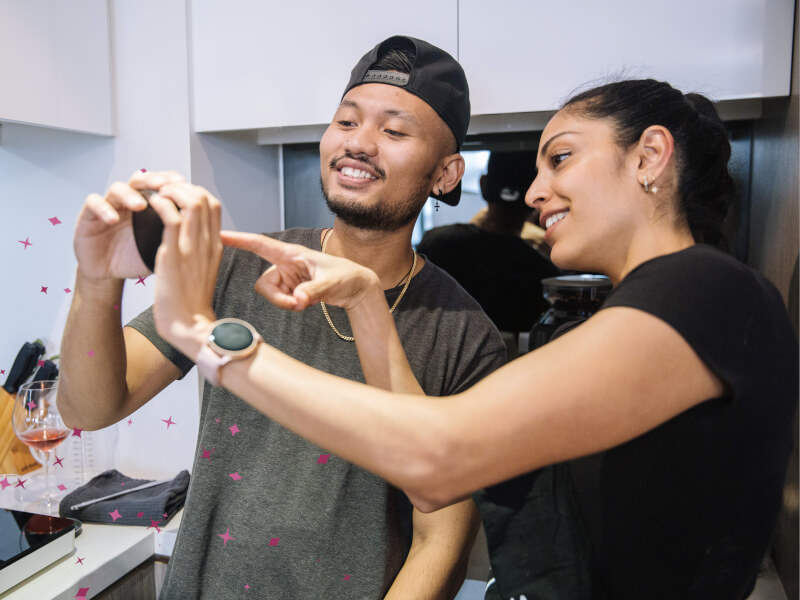 Spreading joy and caring for their wellbeing is a priority for the makers behind This Candle, who now balance candle-making with busy full-time jobs.
"Our creativity is probably becoming less and less because we're told what to do. We're told what to watch. We're told everything. And so I guess being able to let loose in a safe space to be creative is actually really good for us," says Jig.
Meera agrees that the creativity and accessibility of their classes have been the most meaningful aspect of teaching. It's not just, that you come here and you can only do it once. If you come to our class, you can actually do this again at home."
Love what you do and have fun with it!
Despite cultivating the perfect tried and tested formula, Jig and Meera don't try to keep what they've learnt a secret. In fact, sharing their love and knowledge of candles with others is the most rewarding part of what they do.
"We want students to have fun with it," Meera adds. "It doesn't have to be perfect the first time around as long as you are having fun and you enjoy it. That's the main thing."
As for how to make their scent-sational candles⁠—you'll have to try out their class to find out more…
Location: North Sydney
Costs: $135 per guest when you book for 1+ guests, $115 for 3+ guests. Earlybird price: $120.
Duration: Three hours.
What you'll get: Wicks, wine, nibbles and two handmade candles to take home!
When: Classes run regularly on Thursdays, Saturdays and Sundays.