Turn the world around you into a canvas with photography courses in Sydney! Led by an experienced and passionate photographer, you'll learn how to see the city of Sydney through a whole new lens and gain confidence in capturing the perfect shot. Whether you're interested in learning manual photography with a DSLR camera or want to pick up some smartphone photography techniques with the handy device in your pocket, Sydney photography courses are aimed at getting you comfortable with whatever camera you own.
As well as being super fun, these photography classes also come with a myriad of other positive benefits. Get better at capturing memorable moments as you learn photography with your private group - a wonderful idea for both casual get-togethers and special occasions alike. Perhaps you're after unique hens party ideas that'll get you out and exploring or interactive team building activities where you and your colleagues can bond and collaborate with one another. However you choose to try photography for beginners, one thing is guaranteed - you'll walk away from the class with newfound confidence and a whole range of striking images to admire.
Have a keen amateur photographer in your life? Nothing would please them more than photography experience gift ideas. If you're not familiar with photography lingo, don't stress! Treat them to a gift card and let them peruse the many smartphone and digital photography class options available so they can pick out what's right for them.
Take a look at these five benefits to trying out a photography course in Sydney and discover why you should add these outdoor activities to your bucket list!
Build your confidence and get creative with these fun outdoor activities
It's an all too common scenario. You purchase a digital camera or a smartphone with a fancy lens and end up taking the same old images from slightly different perspectives. If you really want to make your photos stand out then a photography course will give you both theoretical and practical skills to change the way you snap. The more you practice and learn how to use your DSLR camera or smartphone to their full capabilities, the more confidence you'll gain and the more brilliant your photos will turn out!
Photography courses are also a great way to get out in the fresh air and explore places you may have never noticed before. Primarily outdoor activities, these Sydney workshops might see you capturing the Harbour Bridge by day or the Opera House at night. If you're looking for more unique things to do in Sydney, you might find yourself walking through a cemetery or taking photos of street art in Marrickville. There are so many creative options out there and so many exciting ways that you can express yourself with these beginner courses!
Learn how to capture special moments through photography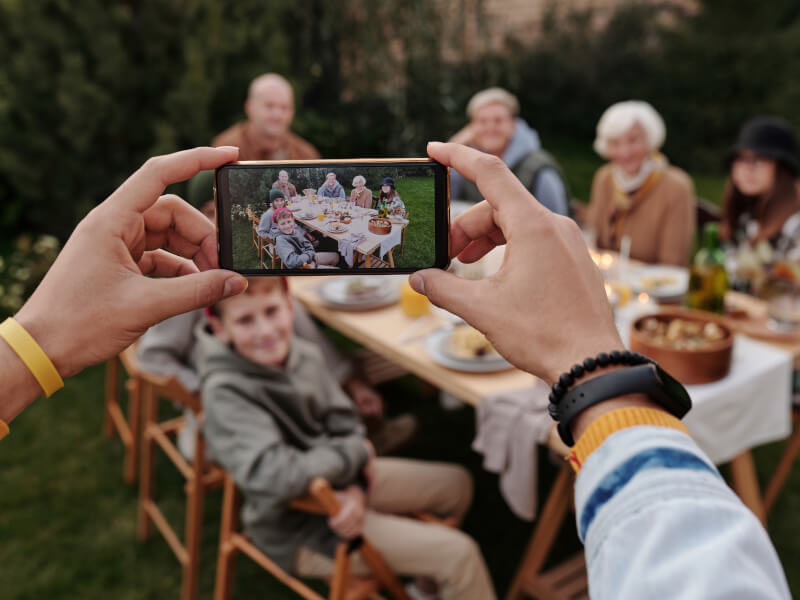 Another great advantage to these classes is that you'll learn all the tips and techniques to help you capture the special moments in your life. There's nothing worse than taking photos at a birthday party or on holiday only to find out later that the exposure is a little off or that the framing looks silly. With smartphone photography classes, in particular, you'll gain on-the-go skills that'll prevent you from ever taking a bad photo again. Whether it's knowing how to achieve the perfect lighting every time or composition skills that'll get your framing just right, remember the special moments in life just how they are, thanks to these Sydney activities!
Celebrate a special occasion with loved ones
As well as capturing memories, these unique gift experiences will also have you making some more with family, friends and colleagues. Maybe you and your group are looking for original hens party ideas or more fun, hands-on ways to celebrate a birthday party. Photography courses are a great way to get everyone together to try something new. These experiences are also a wonderful idea if you're trying to add some more excitement to your team building activities. Instead of sitting around the office, you'll be outside in the city amongst nature, working on practical team bonding skills without the lectures or slides. You may even like to encourage some friendly competition at your unique corporate event, like a 'best photo' winner where smaller teams can work together to find the perfect shot.
See the city of Sydney through a whole new lens
One of the hardest aspects of learning DSLR photography is working up the courage to take photos outdoors. It can feel a little daunting snapping photos of your own city, especially because you don't want to seem like a lost tourist struggling to figure out how their camera works. Sydney photography courses get rid of this awkwardness and connect you to other like-minded beginners. Your friendly photographer may also show you some of the best spots in the city where you can still capture amazing images, but without gawking crowds. In no time you'll be exploring hidden alleyways, private beaches and unknown picnic spots and adding to your unique portfolio.
Support local photographers and photography studios near you
When you first heard about these amazing workshops you might not have even considered that they can benefit other people as well. Instead of sitting down to watch a complicated and depersonalised online tutorial, consider trying out an in-person class and supporting your local photography studio instead! You'll get one-on-one guidance from someone with experience who is passionate to share their wisdom and give you personal pointers and tips throughout the process. Contributing to local photographers guarantees that the value of art in Sydney will grow and that these unique local experiences can continue to be offered.
Now that you've read all the amazing benefits of these photography courses it's time to experience one for yourself. Get outside and explore the wonderful photo opportunities around you with these must do Sydney events and capture images that you can be proud of!
Photography workshops in Sydney