Planning a successful work event can be a challenge. You want it to be fun and memorable, but it also needs to hit your targets and deliver the right message. The key to achieving that balance is to ensure that the corporate team activities in Melbourne you have planned are meaning and experiential, encouraging people to connect with one another and also link back to the overall theme or goal of the event.
With a little bit of creativity, corporate events can be super enjoyable and memorable for everyone involved. Bringing a corporate event to life can be as easy as adding a few unique activities into the session, and in doing so you'll ensure that you're creating an inclusive and engaging environment for your employees and impress any special guests. Whether your aim is team building, corporate entertainment or a new product launch, there is an abundance of unique corporate team activities in Melbourne that might be perfect for your next event.
These corporate team activities can not only re-emphasise your event concept, but they can also keep people engaged, and are a great way to incentivise employees to continue to attend corporate functions. And the best part? A lot of the activities require little to no organisation from you other than locking in the venue and the time. The expert artisans who run these activities provide all of the necessary materials needed, making it a seamless addition to any company event.
For product launches
A product launch is a special occasion where employees, the media and even competitors come together to celebrate a new release. For your launch to stand out, it needs to be engaging and a little bit unique so that everyone will leave buzzing and spread the word among their extended circles. To keep things interesting, you should have some activities planned that offer a good break between speeches, mingling and drinks. A private cocktail class is a classic but still very well-loved way of celebrating. You can even turn this activity into a package that includes canapes, which is a perfect way to take the stress of organising food and drink out of the equation.
Perhaps something a bit more hands-on like a beginners clay hand building workshop is just what your product launch needs? Whether your product is physical or not, you can let it dictate what the attendees will make with the clay so it still ties back to the theme of your event. Hands-on sessions like this also alleviate the stress of small talk, as the communal act of making will give attendees the chance to bond through a shared experience.
For team building events
Corporate team building activities are key to fostering a company environment that encourages collaboration and cooperation between employees. Teamwork really does make the dream work, and so these activities should not be shrugged off as an obligation. Rather, companies should see them as an additional opportunity to show their employees how much they value their hard work and inadvertently help them build connections with their colleagues in the process.
For a team building event to be really successful, it needs to reward good teamwork and encourage positive team behaviour. A corporate team activity in Melbourne that does this brilliantly is the mystery box challenge. In this challenge, small teams of coworkers are given ingredients to make culinary dishes around, which requires the delegation of roles between the group and a cook-off between teams. At the end of the team cooking class, the chef will judge the winners based on not only taste and presentation, but of course teamwork.
Other great culinary team building activities are a dumpling cooking class or Indian cooking class. If cooking has been tried and tested in your company, a wheel throwing pottery workshop or sip and paint class are other great options.
Corporate entertainment
Corporate entertainment is a really effective way for businesses to show their appreciation to employees. If you have come company representatives or perhaps even a CEO or other senior employee visiting the office from interstate or overseas, it's a good idea to break up the schedule and keep things entertaining during their visit. Corporate team activities in this situation can also help local employees and company representatives to meet each other and bridge hierarchies in the workplace.
A beginner's small terrarium workshop is a great way to break up the schedule and, thanks to all of those amazing mental health benefits that come from being surrounded by plants, something beneficial for all employees to keep on their desk afterwards. This workshop can be brought to your workplace, with the teacher providing everything needed for the class. Or if you want to reward staff at the end of a long day, a design-your-own cocktail mixology class is the perfect way to do so. This mobile class allows coworkers to chat and send off those visiting in style, with a cocktail in hand.
For Christmas parties
Christmas parties are a seasonal celebration to show appreciation for a company's employees and celebrate the achievements of the year. While they are more on the fun than the serious side in comparison to other corporate events, they are still a work function so you will need to think carefully about what is appropriate and what will be the most inclusive for everyone in the office. Finding something that is both fun and still professional might sound challenging, but there are various types of corporate team activities or corporate entertainment options that maintain that balance.
A paint and sip class allows coworkers to mingle while getting artistic and enjoying a beer or wine. Or a beer and bbq class is something more alternate to try, and after everyone has made their food, they get to sit down together and enjoy a delicious four-course meal together, all matched with four premium Australian craft beers.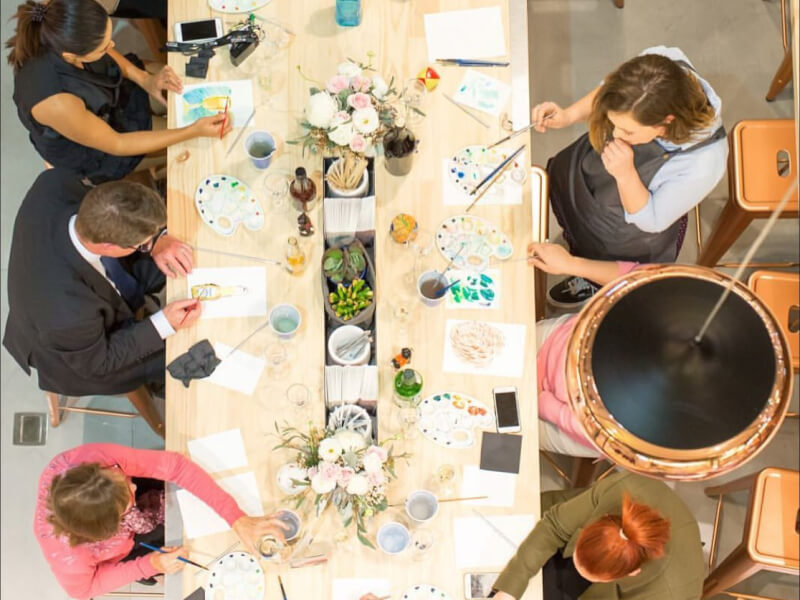 Let us help you plan some corporate team activities in Melbourne for your next event! Check out all of the workshops we have on offer in Melbourne.