Dad might like watching sports on the weekends, love a home-cooked meal or obsess over his garden but we're pretty certain he'd give anything for another laugh and some quality time with you. So this Father's Day when Dad gives you the same enigmatic answer on what gift he wants, you can discretely smile because, a few minutes after reading this, you'll know exactly how to make it the most meaningful one yet.
When Dad says he wants something practical…
Instead of gifting him something useful, ignite his passion for learning a new (and practical) skill.
Bjorn Jacobsen, founder of Nordic Edge and a Dad himself loves watching father-and-child duos discover old-fashioned crafts like knife making and spoon carving together.
"I think us men often find it easier to talk when we have something to do with our hands, rather than just sit across a table," Bjorn says. "This is one of those activities where you are active, but also have time to talk and connect."
The added bonus? With a DIY spoon carving kit included, Dads can transform their newfound skills into a fully-fledged hobby and the perfect activity for the next camping trip.
When Dad says the best gift is you…
If Dad shoots you the old, "I've got everything I need right here" response, he's probably low-key begging for something other than another pair of socks. Instead of brushing off this response as one of his silly jokes, gift him a fun workshop you can enjoy together!
Think outside the box and consider dabbling in some pottery together, trying a paint and sip class or building a terrarium together.
Perth ceramicist Lucy Aboagye welcomes families and friends to Not Yet Perfect, a pottery studio that embraces all the lumps and bumps of working with clay.
"To see family connecting through pottery is really endearing," Lucy says. "Everyone goes to that child-like place of creativity where there is so much freedom to try new things and just connect on the same level."
When Dad is always up for something new…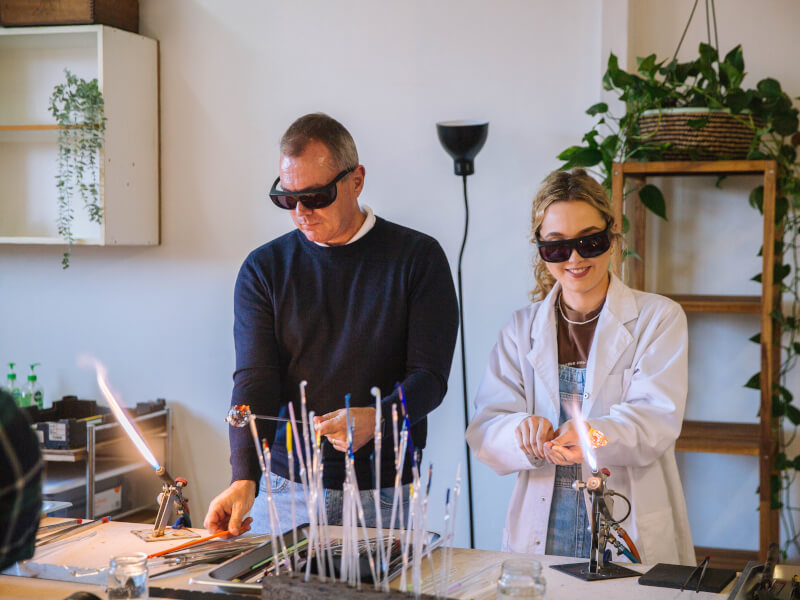 One weekend he's building, the next he's cooking up a storm. If this sounds like your Dad, chances are he'll jump at any opportunity to try something new. And what's one better than that? Diving into a new challenge with you by his side!
Glass artist Mark Eliott recalls multiple heartwarming stories of Dads who have dabbled in glassblowing thanks to some encouragement from their kids. The standout memory? A young artist and her father who, upon walking into the studio, blurted out: "I'm just a tradie and I don't have a creative bone in my body!"
"He proceeded to make a wild abstract glass object that was bursting with creativity," Mark recalls. "His daughter, who also made a wonderfully creative form, was very surprised and said: "Now I know where I got my art skills from Dad!"."
When Dad struggles to take time out…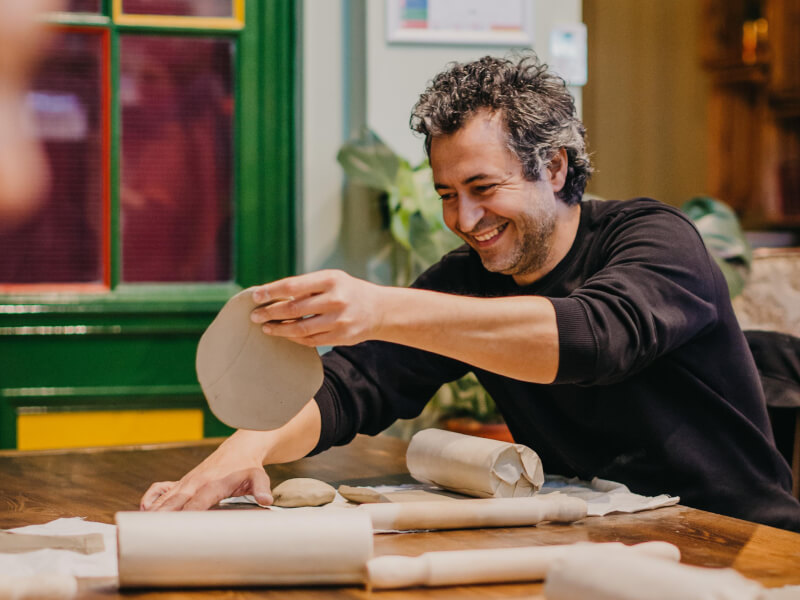 Dads can be pretty legendary but that doesn't mean they don't need their downtime too. Give him a reason to take a break with a mindful tea blending experience.
Uppma Virdi, founder of Chai Walli draws on her grandfather's family recipe to host immersive chai tasting experiences that focus on engaging the senses, telling stories and sharing culture.
"It's a chance to connect with other people and learn about spices and flavours and culture. It's a moment to yourself to enjoy and explore and realise you can never stop learning," Uppma says.
There are a few hidden perks in this kind of Father's Day gift too. "Who wouldn't want their Dad to brew them a fresh authentic Indian masala chai? I think that's a very good plus," Uppma adds.
When Dad says "No gifts, please"…
Dad might seem certain he doesn't need anything, but that shouldn't stop you from trying something fun together! Ignite his curiosity with a photography course, start a new hobby together at a sourdough bread making class or share a laugh at a sausage making workshop.
Chrissy Flanagan, AKA Sydney's sausage queen, says you just can't beat the combination of local beer, homemade sausages and quality family time.
"It's a chance to have a crack at something neither of you have ever done before, so it's a fair competition if you're a competitive family (and who isn't)," Chrissy says. "It's relaxed and loose and highly eccentric."