So anniversary time is approaching and, being the absolute smoothie you are, know that your special person deserves more than the standard roses and chocolates. Why not try experience gifts for couples in Sydney. ClassBento's unique wedding anniversary gifts in Sydney will have you romancing the hell out of your significant other in a way that brings you closer both emotionally… and physically.
There are plenty of fun things to do in Sydney to help you two get connected and - ahem - reacquainted with each other. The key to keeping the spark of a relationship alive comes in many forms, but effort and thoughtfulness are two ways to ensure a modicum of success in keeping that fire burning. Dinner and a movie are great, but here at ClassBento, we reckon you can do better. Below are some tips and tricks in making sure that no matter how long you and your partner have been together, the goosebumps will still reappear.

New experiences are great anniversary gift ideas
After being together for a little while, it's important for couples to mix it up a little and keep things fresh. ClassBento can let you deal with the more intimate side of keeping things fresh, but when it comes to external activities and unique experiences Sydney can offer you, well, that's where we come in.
Boredom can kill a relationship and it often does so very quietly. That's why it is always important to keep building on the connection that initially brought you together. New experiences are a fantastic way at reinforcing your bond and anniversaries are the perfect time to create new memories. Trying one of our Sydney workshops that neither of you has any prior experience in is a wonderful way to keep your anniversary gifts mucho caliente!
ClassBento's range of paint and sip classes don't just make a wonderful hens party activity but are a great workshop for unique anniversary gifts for him and her! Buy a bottle of bubbles and head on down to any number of our Sydney workshops. You and your babe/bae/baby can spend a couple of hours indulging each other's artistic side while sipping on some champagne. Our paint and sip workshops pride themselves on creating a wonderfully relaxing and inclusive environment so although private bookings are often available, it can be an awful lot of fun to do with a collection of other couples, birthday parties and individuals looking for a good time. If neither of you has ever painted before, this is a perfect wedding anniversary gift to bring you closer while working on your strokes. Yes, we all just winked at you.
Want to really up the romance? Hold the paints and pick up the pencils and join in our life drawing class! Nothing gets the fire burning like mutual appreciation of the physical form, and engaging in a life drawing class before a glass of vino will really have you appreciating each other's physical form.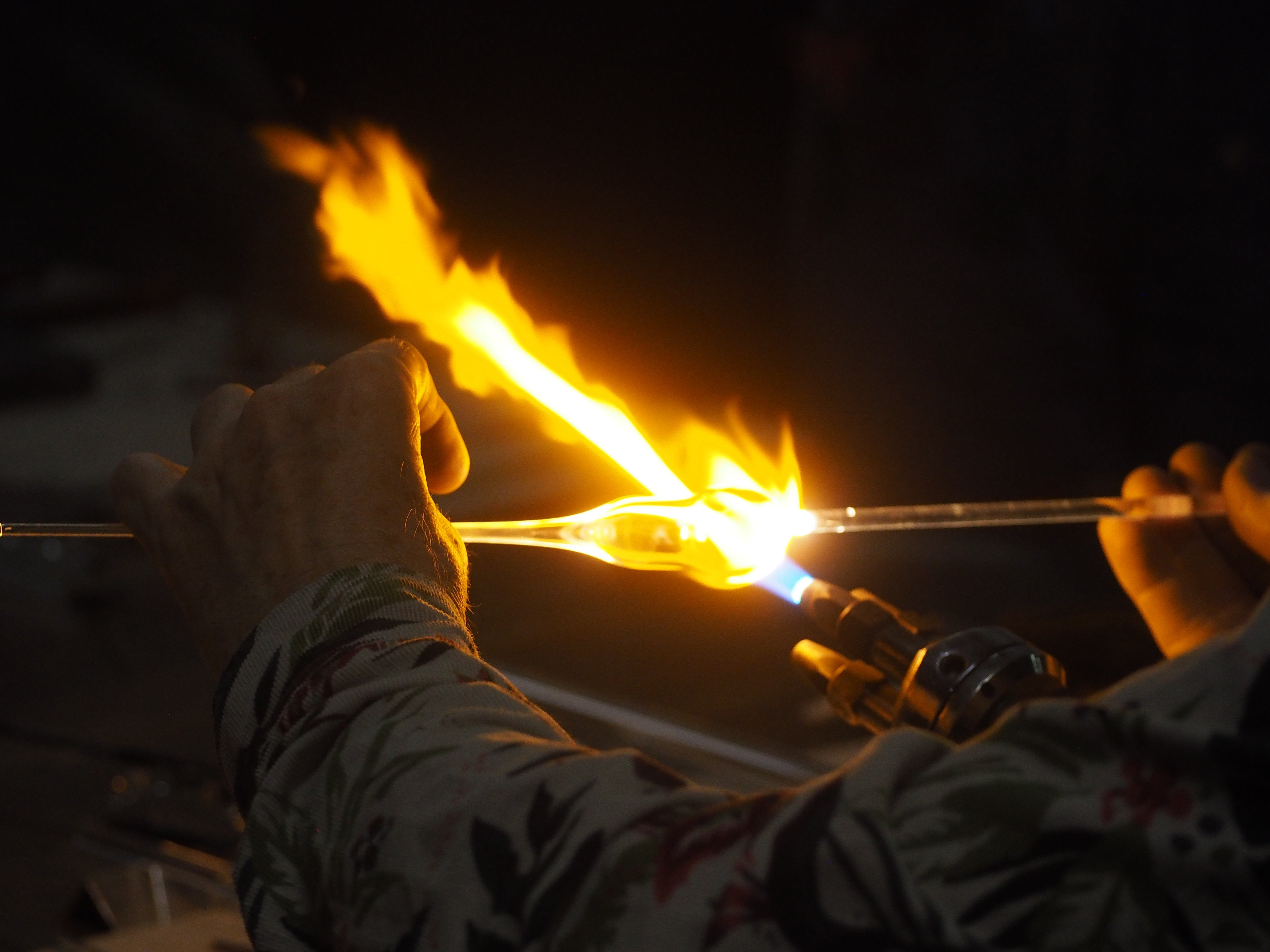 Alternatively, if you wanted to try something completely out of left field, ClassBento's glass blowing workshops will have the two of you rekindling the flame over an oxygen-propane torch as you design intricate works of glass art! Obviously this is an exceptionally unique anniversary gift, but if you are an artistic couple, chances are this may be a great option. While many of us can expect a box of Favourites and maybe a bowl of pasta by candlelight, organising one of our Sydney workshops on glass blowing for your wedding anniversary gift is an experience that will not just be unexpected, but absolutely memorable. There's also a collection of romantic puns here, but we'll let you sort those out.
Connecting through art is one of the most effective ways of re-establishing intimacy. With or without a partner, creating art is a very personal activity and allows you to express yourself in a way you otherwise wouldn't be able to. Expressing yourself together, however, is a thoughtful, romantically provoking anniversary gift for her or for him that's sure to remind you what got you together in the first place.
Sizzling anniversary gift ideas
No matter what roles you take in your relationship, chances are one of you is doing more cooking than the other. That's not necessarily a bad thing either, as each relationship requires balance and teamwork, and each member takes on individual roles to help achieve that. Cooking together, however, is a great way to work together and connect with your partner! Buying a series of cooking ingredients and offering them up to your significant other isn't a bad idea, but it certainly doesn't scream "romantic anniversary gift," particularly if they're the one doing the majority of the cooking. Luckily, Sydney is overflowing with exciting and delicious cooking classes to get you and your partner stirring, mixing, sizzling and melting all over you before you can say bon apetite, mon cherie!
Many people consider France to be the home of love, and while their cities ooze an unmatched romance and sensuality, their food doesn't come close to the romance of Italian cuisine. Going out for an Italian meal is the stereotypical pinnacle of a romantic date, but instead of enjoying a bowl of pasta, why not learn how to make it instead? Pasta making is an incredibly unique wedding anniversary gift idea, as it's a skill you can take home with you and continue connecting over. Our pasta-making masterclass is an exceptionally hands-on workshop that will have you kneading and stretching in ways neither of you may have done before. We have a variety of pasta-making classes, and if you want to really add some sugar, our pasta making class with cannoli and cocktails gives you plenty to spark over.
For inspiration for anniversary gifts by year check out our guide here.
Make your wedding anniversary gift ideas something to remember in 2020 and give your special someone more than they're expecting. Cement your position as their number one and make them feel truly loved with one of the many romantic things to do in Sydney ClassBento offers. Whether it's cooking, painting or blowing, connect with your partner and help the love blossom by creating new and exciting memories.
Suggested workshops in Sydney