Virtual team building activities like online paint and sip classes help break the monotony of the Australia lockdown and allow coworkers to stay close with each other even when they're working at home — or across the world!
Unlike other Zoom activities, there are no dull moments when you paint and sip at home. Firstly, they're led by friendly instructors who will make sure everyone is engaged and having fun. Secondly, it's easier to relax when everyone has a drink in hand, like an excellent wine or cold beer, a glass of bubbly, or a hot tea or coffee!
After the class, each member of your team will have a beautiful artwork to show off, which they can hang at home, give to their friends and family, or display at the office when you all go back.
Paint and sip classes aren't just great for team building either. They also make for unique virtual Christmas party activities, experience gifts for team members, and virtual office party ideas for any occasion.
Here are more reasons why you and your coworkers should give paint and sip classes a try...
Slow down and relax with paint and sip online classes
It can be tough to switch off when working from home. A paint and sip class makes it easy to slow down and forget about deadlines for a little while. It also is a great date night for you and your spouse if you do it together. The rush of creativity will help you focus when you get back to work.
Even better, painting is great for your mental and emotional health, too! It allows you to work through your stress and frustration in a productive manner. It also has meditative qualities because the motion of applying brush strokes to a canvas lets you stay in the present and encourages self-reflection.
So, instead of pounding away at the keyboard day in and day out, step back from work for a while. Pick up a brush, dip it in paint, and fill your canvas with colour while chatting away with your team members and enjoying your favourite drink.
Get in touch with your creative self and step out of your comfort zone
Online paint and sip classes offer more than just a chance to unwind – they allow you the unique opportunity to tap into your creative self.
For many, indoor activities like these are a big step out of their comfort zone. But with a great deal of online painting classes out there that show you exactly how to follow along, people can finally get out of their head that "I'm not an artist" and just have fun with it.
However, you may be amazed at how easily these indoor activities in Sydney can break down barriers both socially and creatively. For instance, painting side by side with others can often help teammates open up and feel more comfortable engaging in conversation, which can only benefit your working relationships.
In addition, there's no pressure to produce the perfect artwork. While you can choose from a variety of art samples to follow during the session, they are by no means required. Feel free to use the colours you like, paint outside the lines, or create a new masterpiece altogether! Our paint and sip online classes are a safe space to explore your creativity without judgment. Check out these painting kits for adults - perfect for lockdown in Australia in 2021!
You don't need to be Picasso to enjoy paint and sip online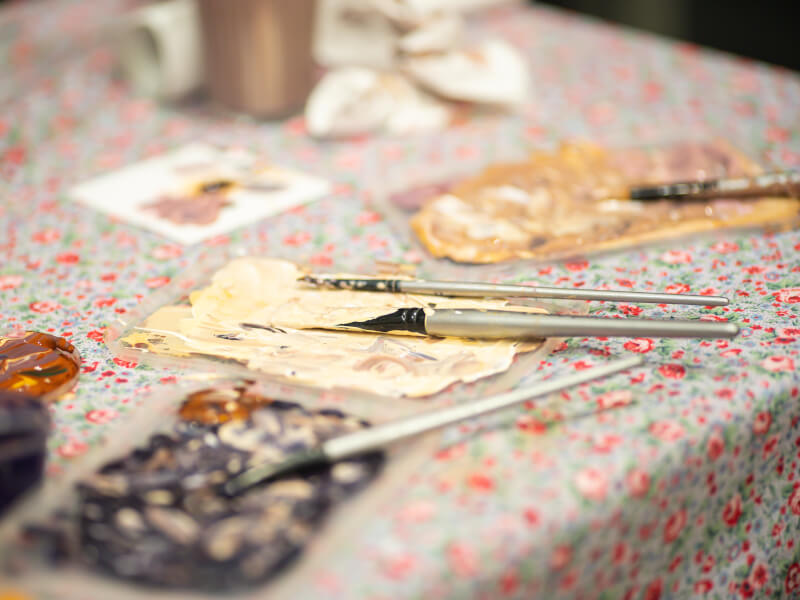 There's a good chance somebody on your team doesn't consider themselves an artist. That may even be you!
There's no need to worry because the only thing you will need is an open mind. After all, our paint and sip class instructors are there to guide you every step of the way.
They'll teach you everything from the right way to hold a brush, how to mix paints, to even where to place your easel. There's absolutely no experience required, and you can also ask questions or get feedback at any time during virtual paint and sip.
Got a bit of painting experience? Don't hesitate to share cool tips and tricks with your group. Art is a collaborative process, and our instructors love encouraging group engagment during these creative indoor activities in Melbourne.
Customise your paint and sip class with special themes for your virtual office party
Add pizzazz to your online paint and sip class by making it a themed event! Themes can help foster a sense of camaraderie and teamwork between coworkers. Additionally, it can help break the ice if team members don't know each other very well.
For example, everyone can wear Santa Hats for a virtual Christmas party or wear green for St. Patrick's Day. If you're booking it as a summer activity for the office, invite everyone to wear sunglasses, tropical wear, and whip up tasty summer cocktails!
Or, you can also go with something silly just to lighten up the mood and get everyone's mind off work. For example, ask everyone to wear their cutest pyjamas and bring hot chocolate!
Interested in a themed paint and sip class, but not sure which one to go with? Talk to us about what you have in mind, and we'd be happy to help you come up with a few options!
How our paint and sip online classes work
Finally, everyone can focus on having a great time because you won't have to worry about logistics. Once you've booked one of our paint and sip at home classes for your group, we can take care of everything else, including arranging the Zoom link and sending everyone their very own painting kits for adults.
While the exact content will depend on the specific class you book, these DIY craft kits will have everything your team needs, such as paint, canvas, and brushes. Again, depending on theclass, you can also get add-ons like a cocktail kit or an easel.
Getting your team together with fun, relaxing and creative things to do during lockdown doesn't get easier than this!
Paint and Sip workshops - Virtual with Kits