Here at ClassBento, we have such an array of photography classes in Sydney perfect for beginners, you'd be forgiven for thinking that's the only group we cater for. Starting off in photography can be daunting, and, if you are, definitely check out our beginner's photography workshops. If you've already become well acquainted with your camera, however, and you've taken a few consistently snappy snaps, you'll be needing a little more meat in your photography class.
Capturing the beautiful scenery and architecture in the harbour city is what makes photography courses one of the many fun things to do in Sydney, but if you've already started doing this, then it isn't worth your time or money to listen to what you've already learnt and mastered. But don't worry, ClassBento has a few cheeky photography courses perfect for individuals and small groups looking to build on what they already know, and have an amazing time while they do it.
If you're chasing a photography class with both a personal touch and a touch of personality, look no further. Acclaimed photojournalist Glenn Lockitch runs a one-on-one photography class for people looking at Sydney workshops designed for individuals with photography experience.
Glenn himself has plenty of experience to share, having snapped up everything from the fall of the Berlin wall to travelling with conservationist group Sea Shepherd and capturing their anti-whaling efforts. A man who's no stranger to snapping the action, Glenn's photography class is the ideal way to take your camera skills to new heights. Bring your DSLR along and learn tips and tricks for your camera's manual mode and master mood lighting, the aperture, and your camera's built-in light meter. Being the only student, the class will be tailored to your needs, and what aspects of your photography you want to work on most.
Nearly all of ClassBento's Sydney workshops use the city's iconic urban landscape as a basis for their photography training, but Sarah Jenkins's Travel Photography Workshop uses it to highlight the skills required to give your holiday photos an air of professionalism. SignaturePhoto - Sarah's company - has been offering up the best in photography courses for the past twelve years, and her Vietnamese Sydney photography workshop is among one of the most unique classes both she and ClassBento has available.
Based in Cabramatta, you'll traverse the area known fondly as Little Saigon and illuminate a different culture with your camera lens. You'll explore Cabramatta's bustling fresh food markets and sample some authentic Vietnamese street food, all while learning how to snap it all up with your camera. Sarah herself as over twenty years of travel photography experience and has captured images in over 138 countries, so she's perfect for showing you the ropes of photography in Little Saigon. It's also the only photography class in Sydney that comes with a steaming hot bowl of Pho!
Here at ClassBento, we love all of our amazing photography courses equally. But the three-day Photography tour of the Blue Mountains is undoubtedly the pièce de résistance of our photography classes, for obvious reasons.
We have so many amazing photography workshops in Sydney that will help you expand your knowledge in unique and exciting ways, but Alfonso's Photography Tours offers you the chance to camp out in the NSW hinterland in an intensive, hands-on experience. Although this three-day photography workshop is available to people of all experiences, individuals who already have a firm grasp of the photography basics will find this little getaway particularly enthralling.
On your journey, you'll learn how to capture the natural beauty of the Blue Mountains by visiting some of the most incredible landscapes New South Wales has to offer. Over the three days, you'll get roughly fifteen hours of photography training, as well as assistance with photo editing and how to master astrophotography. Unlike many of our other photography workshops, a considerable amount of photographic equipment is required to get the most out of the class, as is a moderate level of fitness, so always double-check to ensure the workshop is right for you before booking.
But for those who want their photography training to have a healthy dose of adventure, Alfonso's 3-Day Photography Tour is perfect! Alfonso's Photography tours have been running since 2008 offering photography tours all over Australia, as well as multiple photography tours of Japan, Spain and even to the ruggedly beautiful Faroe Islands, you'll spend the three days in very safe, experienced hands.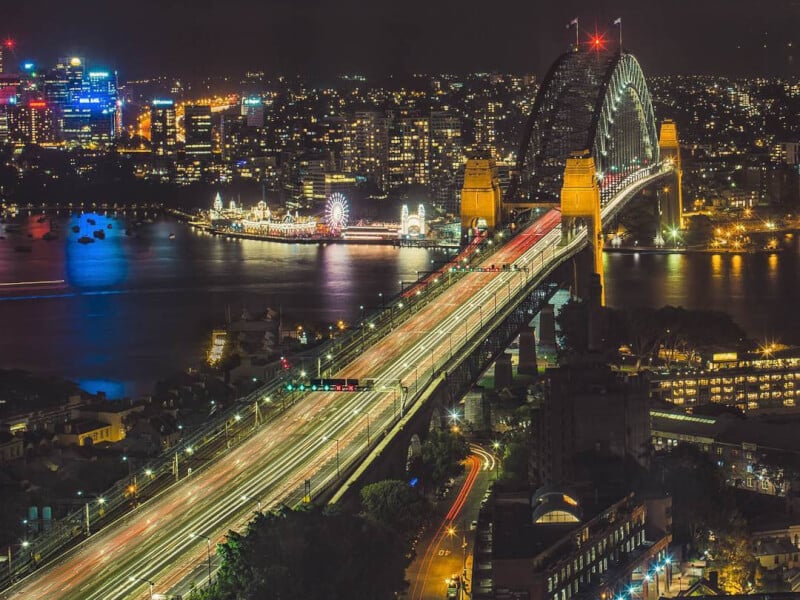 Grab your camera and tripod and join Alfonso once again for his Night Photography short course! If your photography training has yet to lead you into the dark, you'll be shown how to capture key Sydney attractions using only your camera's manual settings and the light of the moon! With classes maxing out at eight participants, you can rest assured that you'll be getting plenty of one-on-one time with your photography class instructor, who'll give your images instant feedback so you can improve immediately.
Once again this class is open to beginners as well, but having some photography courses and/or knowledge behind the lens will stand you in good stead for this workshop after-dark.
With so many photography classes in Sydney to choose from, you wouldn't be amiss in feeling overwhelmed as to which one to choose. For complete newcomers, our beginner's photography classes are perfect, but individuals with more experience looking to level up can have a more difficult time choosing. Many photography workshops aren't cheap, so it's crucial that you do get bang for your buck. Whether it's taking an adventurous photography tour of the New South Wales hinterland or traversing Cabramatta's Little Saigon, your experience won't go to waste with our photography courses aimed at intermediates and individuals already well acquainted with their equipment.