Keeping virtual teams fit and firing in 2022 is the key to a cohesive workplace, particularly if the physical workplace isn't available right now. Don't sweat it, though. Coming up with thoughtful and fun activities for employees online can be an exciting way to explore what makes your staff work best together in the virtual sphere.
There are so many virtual team builders to utilise when it comes to getting creative on a budget, so we've assembled some of the best things to do that will help promote positive workplace culture and a supportive space for all employees during isolation, quarantine and everything between. What's more, all of these ideas are under $50 a head, so you can rest assured that your virtual team activities won't break the bank.

Virtual teams that dance together stay together
Help everyone overcome their embarrassment and start the workday off right with one of our virtual dance classes! A fun and energetic alternative to morning yoga, dancing together can help your staff start the day on the right foot. Literally! Mitchell Yee runs some of our most popular live classes online, and his virtual K-Pop dance classes can help bring your squad together like never before.
If you're looking at focusing on workplace wellbeing, nothing is more effective than experiences that put an emphasis on your cardiovascular system. Exercise is an exceptionally effective method of keeping the brain sharp and producing endorphins, and a quick interactive group dance session may just be the perfect way to start your work week off right.
Tai Chi for corporate groups
Although getting everybody moving first thing can be fun, sometimes it can be beneficial for that movement to be slower and more controlled, especially if members of your team are battling Omicron or the self-isolation blues. Tai Chi is already a very popular choice when it comes to team building in a hybrid setup, as it promotes mindfulness and relaxation. Dancing can help energise your staff, but Tai Chi is perfect for helping them unwind after a busy day or stressful period and is a great contributor to positive health and wellbeing in the workplace. By incorporating organised mindful movement meditation into your weekly routine, you can help keep your staff engaged not just with each other, but also with their own brains. Local instructor Theresa Perry has been teaching Tai Chi for corporate groups for years and has been able to help offices all over Australia relax, stay focused and avoid burnout.
Cooking classes make for some of the most effective team building activities, however, transporting them to the virtual arena has been a little tricky. Thankfully, OTAO Kitchen in Melbourne has found a way to bring some real flavour into your virtual teams. Their Make Chinese Dumplings is one of our most popular live classes online and can help your staff whip up a truly delicious meal without needing to leave the house. Each staff member will be given a grocery list prior to the workshop commencing, and then together, you'll all cook along with your qualified chef and produce traditional Asian cuisine! One of our standout virtual team icebreakers, learning to cook together has always brought a workplace closer, as it's a fun, interactive and delicious alternative to office drinks. Cooking over our virtual live stream is a close second, and a cheap and easy way to change up everyone's routine, and keep the spontaneity thriving in your positive workplace culture. OTAO Kitchen offers a variety of different cooking classes, so you can pick the one that best resonates with your team.

Online Cocktail Classes
Want to give your hard-working team the chance to switch off and unwind after a big week? Try out a virtual cocktail making class! Our virtual cocktail classes are in high demand when it comes to team building activities because they offer something totally different to a standard Friday night out. Over the course of the class, you'll learn how to mix up 3-4 different cocktails, tailored to your team's tastes and preferences! This is an excellent icebreaker for any new team members that haven't met the rest of the gang in real life. These fun virtual cocktail classes are interactive, engaging and laidback, making them a wonderful way to switch off after a big week. Your colleagues will pick up some serious drink-making skills and enjoy whipping up some time-honoured beverages they'll no doubt re-create time and time again, especially during bouts self-isolation or onrainy weekends at home.

Drink and draw in a new and inventive way
Getting the office MVP's together for a team meeting soon? Why not add a touch of colour? Much like our cooking classes, our drink and draw and paint and sip classes are exceptionally popular options when it comes to team building in a pandemic, but many of them require a solid amount of artistic materials. Drink And Draw At Home is designed and run by artist Sheena Chundee, and can get everyone painting and sipping together from home. It's much more than just a standard art class, however. Sheena's workshops encompass drawing games, mini-challenges and fun artistic exercises to help your staff immerse themselves with their inner creative. It's fun, silly and a fantastic way to detangle the brain after a long day working. It's also BYO, so your staff can enjoy this one with a few brewskis in hand.
Sheena is one of our standout artisans, running a variety of creative virtual workshops that place a greater emphasis on personal enjoyment and fulfilment than overall skill development. Ideal for virtual team icebreakers, Sheena's classes take your team building plans and flip them on its head, creating an exciting environment for your team to bond in that's truly unique.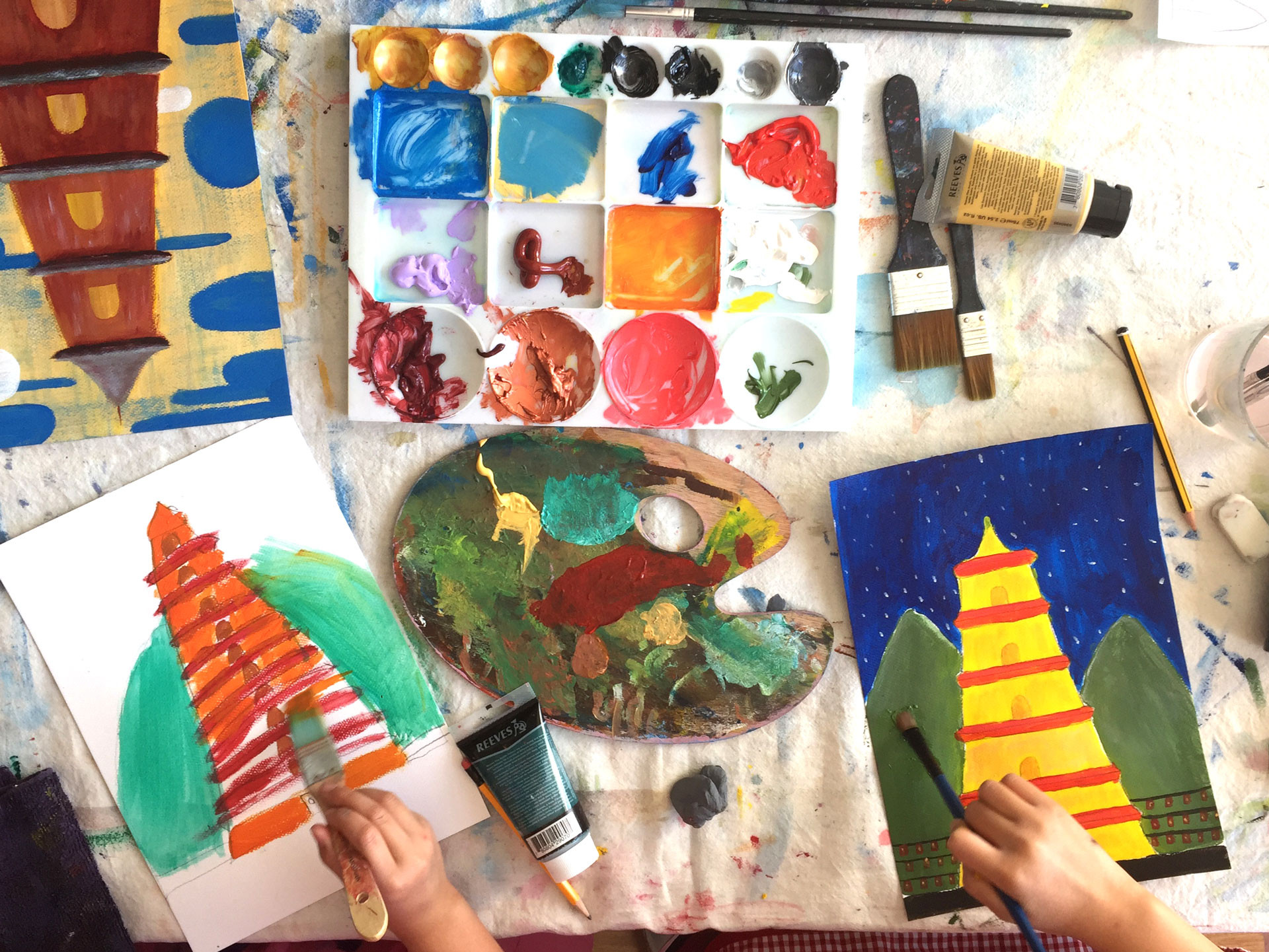 Collage art for virtual teams
Collage art is something you might not have done since primary school, but don't let that put you off. A fun and inventive method of visual art, creating collage imagery is an exercise in exploring your own creativity, and one of our best remote team building activities on offer. Much like Drink And Draw At Home, this workshop enables your staff to let their own imagination shine through whilst working together on the live stream. With a craft box delivered directly to the door of your employee's houses prior to the class, everyone will be able to stencil, cut, stick and paint their way into making a unique collage piece together.
No one knows your team like you do, but we can help find the right virtual team builders to ensure your health and wellbeing in the workplace - albeit a virtual one - stays intact and thriving. And, with our easy-to-use booking system, you can organise classes around your own budget, schedule and group requirements. Looking at doing something truly special for your virtual teams? Contact the workshop practitioner ahead of time to see if there's any way they might be able to make your time with them extra special.
Suggested workshops - Virtual with Kits