The most important ingredient for workplace success is a well-bonded team. Bring them together at cooking classes in Melbourne and watch your unique team building recipe come to life! Guided by experienced, local chefs, you and your colleagues will learn how to cook up a storm, get out of your comfort zones and break the ice in a new and engaging setting.
There's so much to love about these delicious team building activities in Melbourne. Cooking classes are a great way to bond over food and learn things about your colleagues that you never knew before.
In the workplace, you often have a limited amount of time to get chatting, but at cooking classes in Melbourne, you'll be able to connect between sautees and oven bakes. The best part? These fun cooking courses are completely beginner-friendly so even if you can barely boil water you're sure to make something scrumptious. No matter what kind of cook you might be, there are so many benefits to team building cooking classes.
Team bonding benefits of cooking classes in Melbourne:
Help to solve issues in the team by providing a fun space to work together free of the hierarchies of the office.

Allow for group interaction and team cohesion while discussing solutions, successes and challenges in the kitchen.

Serve as a reward for all the hard work going on in the office and improve the team's overall communication skills.

Strengthen bonds between workers and allows them to practice following instructions and learning to adjust to any situation while increasing motivation.
Sharing an experience can help your team come together in new ways they never thought possible. It allows for improved communication in the workplace and can be where friendships are formed and skills are discovered! It's also a big boost for workplace wellbeing and shows your staff that you care about not just their performance, but their happiness too.
Finding the right cooking class in Melbourne for your team can often be a difficult decision depending on dietary requirements, venue locations and pricing. From American smoking BBQ cooking classes to kimchi-making workshops, we have a range of cooking classes in Melbourne that will suit every budget and please even the pickiest eater. Here are seven of the best.
The BBQ School first emerged in 2004 when chef Ben Farley noticed most Australians only knew a couple of ways to barbecue. Today, over 90,000 people have walked through the doors of the BBQ School to learn all there is to know about the art of barbecuing. The school's team building activities in Melbourne are unique because they facilitate a group experience in one of the most relaxed and iconically Australian ways there is – around a barbecue!
Upon arriving at the BBQ class everyone can enjoy and taste complimentary snacks, and during the session, your team will learn practical tips for rubs, the timing of cooking and how to achieve perfect barbecued meats and vegetables each time. In the end, the team will sit down and enjoy what was cooked during the class which is a great way to break down barriers and enjoy a relaxed social experience with your colleagues. It's one of the best things to do in Melbourne if you're a meat-lover.
Drool is the new kid on the block in the Melbourne CBD. Partnering with local foodies and expert chefs all over Melbourne, Drool hosts numerous cooking classes and tasting experiences with the aim to bring people together in celebrating our common love of food. Whether it's cheese making, wine tasting, macaron baking or street food cooking, these fun cooking classes will give your team a taste of the local food scene in Melbourne, all while allowing them to bond with each other. Plus, what better way to get your staff excited about team building activities than cooking classes hosted by famous chefs! Their talented team of culinary instructors include MasterChef Australia contestants, media personalities, Michelin star chefs and sommeliers, just to name a few. Support the local hospitality industry and break down barriers in your team all in just a few hours!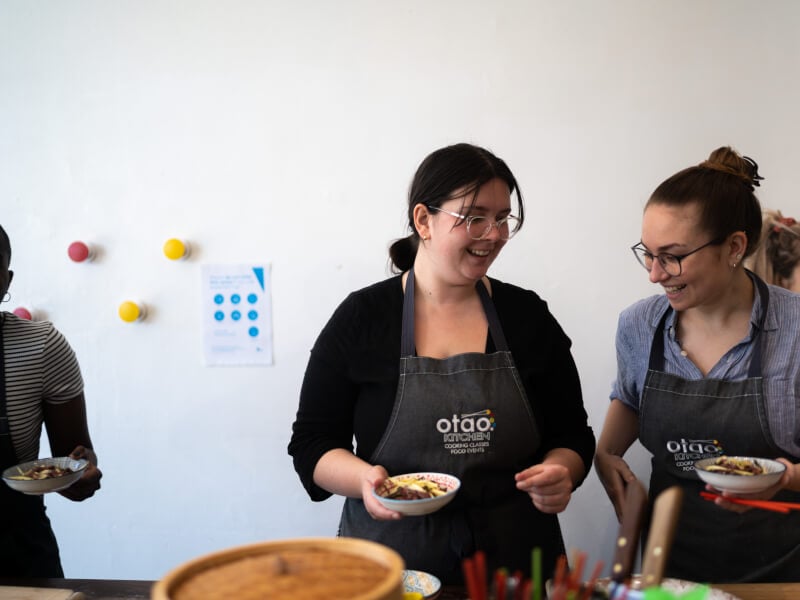 Whether you want to learn how to make Mexican cuisine, Korean food, or Thai dishes, or you just want to have one big dumpling party for your colleagues OTAO Kitchen is the place to do it. The classes run for two to four hours and are 100 per cent hands-on. Their team building sessions can be customised depending on what kind of experience you're looking for, whether it's a friendly competition or more relaxed teamwork. The classes are taught by professional chefs and can be held at OTAO's cooking school in Richmond or at a venue of your choice.
If Masterchef taught us one thing it's the power of mystery boxes to facilitate teamwork. Playing on this concept, Urban Foodies and their cooking classes in Melbourne for team building are the perfect way to get your colleagues to work together. The group will get divided into teams, a head chef will be selected, and then each team will be given some mystery ingredients to work with. The final dishes will be judged based on categories like teamwork, presentation and cleanliness – all elements which are equally as important in the workplace. The classes are held in a passionate environment with the intent to help teams strengthen bonds and create lasting and impactful memories.
At Foodie Trails it's all about getting your team into the kitchen with a passionate home chef. Stripping back the hierarchy in the kitchen and creating a homely and comfortable environment is at the heart of their cooking classes in Melbourne. As well as cooking skills, stories are shared and the dishes that are cooked are informed by family recipes that have been passed down through the generations. They teach a number of different cuisines including everything from Sri Lankan, to Greek and Japanese, and while the menus are seasonal teams are welcome to make menu requests.
Want to learn how to cook the best paella in Australia? You can't go past Hola Con Lola in South Melbourne. Led by passionate, Argentinian-born chef Lola, you'll learn how to delight your tastebuds with beautiful South American flavours and brush up on your Spanish skills along the way. Get your colleagues together to cook the perfect paella with social team building activities and compliment your meal with refreshing sangria.
Nothing beats a soul-warming homemade Indian meal and at Heavenly Morsel, you and your team can learn how to make the best of this delicious region! Roll up your sleeves and get hands-on making South Indian curries, authentic Biryani or rice pilaf. These classes are perfect for smaller teams as you enjoy cooking and dining in an intimate kitchen at chef Tanya's holiday home in Berwick, with picturesque views. With mouth-watering food, gourmet nibbles, fine wines and cooking with a view, team bonding will be a breeze for your team at Heavenly Morsel.
References
1) holisticservices.com.au
2) zerocater.com
Cooking workshops in Melbourne