Searching for an anniversary present for your parents or something to celebrate your best friend's wedding? Look no further! Check out these beginner-friendly gourmet gift experiences for couples and find the perfect experience that will blow anyone away!
We have hundreds of gastronomical delights led by Australia's talented chefs and pâtissiers, each overflowing with heady scents and sensuous flavours.
Perhaps, the decadent duo would love a vegan cooking class complete with superfoods or something meatier like a smoky BBQ workshop straight from Texas? Whatever their preference, there are couple gifts available to sate every unique taste.
Keep reading and explore some of the country's most exquisite cooking, baking and desserts classes – they're so delicious, you might want to tuck in too!
Fun things to do in Sydney
Learn how to make pasta from scratch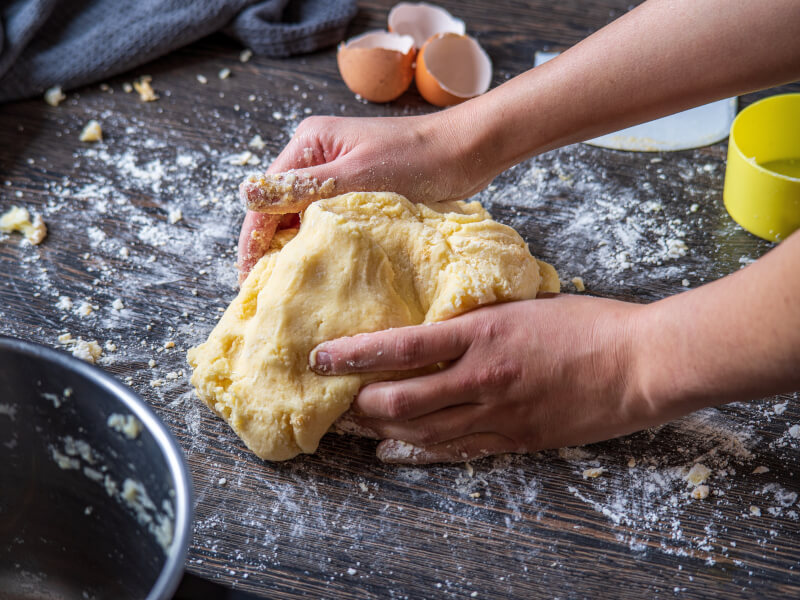 Fettucine with basil pesto sauce, roast pumpkin ravioli cooked in sage butter and spaghetti boasting olive oil, chili and garlic – hungry yet? In this hands-on nf!Italian cooking class, students will learn how to cook and prepare a smorgasbord of delicious pasta to impress the trickiest dinner guests.
Fresh pasta is surprisingly simple, combining accessible ingredients like flour, egg, salt and olive oil. Even the most accident-prone couples could make it with their eyes closed, but a talented teacher is always available to assist with the fiddly bits.
Roll superfood sushi with a master
Gift experiences for couples don't get better than this – a nf!superfood sushi class showcasing Japan's iconic fare. With an emphasis on plant-based produce, it's the perfect anniversary or wedding gift for the health- and environment-conscious.
Students learn under a world-renowned chef who's worked in some of Sydney's top kitchens and authored two Japanese cookbooks. Together, they'll master techniques for various rolls and tackle tasty tempura. What's more, there's time to refuel with a vibrant sushi lunch, miso soup and matcha green tea. Looking for adventurous anniversary experience gifts for couples who love to travel? Explore these awesome ideas!
Satisfy their sweet teeth and sample desserts
Australian desserts are simply the best, and this baking course shows why! Couples with sweet teeth will discover how to whisk together a feast of treats, including panna cotta, chocolate fondant, lemon passion fruit curd, fresh peach crumble and sticky date pudding.
The cherry on top? Baking and desserts classes enhance mental wellbeing. There's no headspace to stress about to-dos and deadlines when mixing batter and enticing aromas arouse serotonin production (a feel-good hormone that regulates mood).
Fun things to do in Melbourne
Head to Italy for a pizza party
An Italian nf!pizza making masterclass is a palate-pleasing present for couples – they'll roll dough from scratch, grapple with gourmet toppings and taste test creations with gusto!
What's on the menu? Salsa di pomodoro, insalata and a refreshing passion fruit lemonade. After making the pizza base, there's even a tossing contest for twosomes who thrive on healthy competition.
Preparing homemade pizza is athletic work, but participants can satisfy their thirst with two complimentary glasses of beer, wine or non-alcoholic fizz.
Go mad for masala spice blends
Leave Australia behind and explore the East's treasure chest of spices and rich flavours in this aromatic nf!Indian cooking class.
While Indian cuisine varies from region to region, all recipes are jam-packed with fragrant blends of garam masala, coriander and cardamom.
Fervent foodies will learn how to identify and cook with spices, as well as where to buy and store them. Then, they can implement their newfound knowledge to create naan, mint raita, saag paneer and more.
Celebrate native Australian ingredients
Dabbling in international dishes is interesting, but there's a wealth of ingredients in Melbourne to discover. In this nf!native Australian cooking class, pupils practice simplicity and honour age-old traditions passed through generations.
This gift experience for couples is so memorable because of its emphasis on sustainable bush food, herbs, and spices. It's an opportunity to celebrate the country's roots and experiment with unusual recipes such as spiced kangaroo pear and pepper salsa, thyme barramundi steamed in banana leaf and Kakadu plum fudge.
Fun things to do in Brisbane
Savour succulent meat straight from the barbecue
Carnivorous couples are sure to adore this nf!American BBQ cooking class, where they'll study techniques for grilled meat that falls off the bone.
Students will draw inspiration from four central barbecue regions in the United States – Texas, Memphis, Carolina and Kansas. Alongside a welcoming chef, they'll tackle rubs, timing, and temperatures to produce smoky sensations, including bacon-wrapped jalapeno poppers, baby back ribs and slow bass strait brisket.
Enjoy breakfast in bed with a twist
The best thing about getting married is having someone to bring you breakfast in bed! This nf!breakfast masterclass covers eggs with hollandaise, chocolate and cheese croissants and fluffy, buttery brioche.
Passionate partners will acquire valuable bread making, knife-wielding and cooking tricks to transform bog-standard breakfasts into breath-taking buffets. They'll also hone their presentation and plating finesse for the wow factor – what more could a newlywed want?
Fun things to do in Perth
Perfect a range of rainbow macarons
A rainbow nf!French macaron making class with assistance from a Michelin-star chef is an indulgent couples' gift for luxury lovers.
Not only do enthusiastic apprentices sink their teeth into baking Italian meringue, piping and fillings, but they work in an intimate environment. Classes are capped at seven students, so everyone has ample time for personalised tuition and space to work.
Revolutionise meals with quick and tasty recipes
Luckily, there are also gift experiences for couples who like to eat without the fuss! A nf!quick and easy recipes class prioritises 30-minute dishes that people can effortlessly replicate at home.
Ditching the fancy equipment and going back to cooking basics, students will reimagine pasta carbonara, vegetarian casserole, burgers and more. Despite cutting corners when cooking, the ingredients are high-quality and sourced with love.
Feast on gourmet gift experiences for couples today
Whether you're looking for a wedding or anniversary present, these gift experiences for couples won't disappoint! There's something to please every palate. Got a partner who has a sweet tooth? Whip up a collection of treats that will put any high tea to shame with a baking and desserts class. Prefer a savoury meal? Indulge your tastebuds with an Italian cooking class and transport yourself to the bustling cobblestone streets of Italy with a pasta making masterclass. Every awesome adventure is easy to book. Simply choose a time and date, and your amazing teacher will sort out the rest!