With Mother's Day just around the corner and so many Mother's Day gift ideas in Sydney to choose from, it can be hard to sift through all your options efficiently. Most mums seem to live by the credence of "I don't mind what you get me, honey, it's the thought that counts!" But what if we told you that you can come up with great experience gifts for mum quickly and easily, without losing any originality or pizazz? Our Sydney workshops have you covered. We've organised a guide to our best Mother's Day gift ideas so you can stress less while you treat mum to the best!
Mother's Day gifts for the earth-loving mum
Got one of those earth-loving mums? Sustainably-minded mums are wonderful, but their holistic approach to life and material goods can make searching for Mother's Day gift ideas a little more difficult. With so many incredible things to do in Sydney, you don't have to stick with the traditional Mothers Day gifts of flowers. Don't misinterpret this, by the way, Mothers Day flowers are a good call. There are ways to expand on that idea, however, and offer your mum some of the most unique experiences Sydney has to offer.
If your mother is partial to a green thumb, give her two thumbs up and check out our gardening and floristry workshops! Whether it's indoor or outdoor plants she loves, we've got perfect Mothers Day gift ideas and workshops for her to grow her gardening skills in a fun and informative way. Mum can learn the Japanese art of flower arranging with an Ikebana class, learn how to make a bouquet, create a little succulent oasis with a DIY terrarium building workshop or make a gorgeous Kokedama moss ball.
As far as Mothers Day gift ideas go, our plant and floristry classes offer you some of the best things to do in Sydney for Mothers Day. They also make a lovely little upgrade to the Mothers Day flowers you were going to buy her anyway!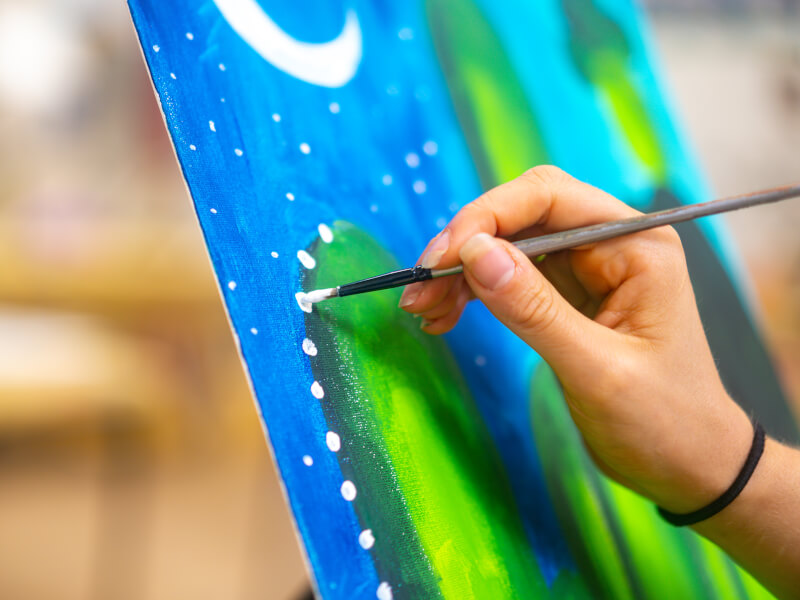 Not every mum loves to paint, but the ones that do tend to really get into it. While dads often spend their mid-life crisis buying motorbikes, mums tend to take up some type of artistic hobby. If they haven't yet, these Sydney workshops will set them on the path to artistic self-discovery in no time! Whether it's pottery, painting, or even Kintsugi art, we've got some of the best things to do in Sydney when it comes to getting crafty!
A classic mum activity is pottery, and although there's a high chance that your mother has already done pottery, there's an even higher chance she'd want to do it again. One way or another, pottery workshops make for fantastic gifts for mum. Whether it's wheel throwing pottery or hand built ceramic art you're looking at, there are benefits to both when it comes to experience gifts for mum. Hand pinching pottery offers a little bit more creative freedom as you play with squishy clay and wheel throwing is an enjoyable activity that allows you to craft highly professional-looking and practical pieces such as vases and bowls with relative ease.
There are also so many painting classes to be found in Sydney, so if mum is looking to brush up on her brushwork, she can do so in an inclusive and relaxing environment, all with a glass of wine in hand. Gift mum a paint and sip class or a fluid art workshop where she can really bring out her creative side and let all her worries go!
Mother's Day gifts for Hungry Mums
Nothing beats mum's cooking but with Sydney cooking workshops she can learn how to make something entirely new from scratch! With all the staples like Italian pizza cooking and pasta making workshops, there's plenty of Mothers Day gifts for mums who have an appetite for learning.
If you're looking for something more celebratory, try our dumplings and cocktails making class at Honka Bar + Eats! Situated in Kings Cross just near the harbour, this is a Mothers Day gift that's sure to get your mum partying with good food, good booze and good company!
Help mum to travel the world and experience new cultures all from the comfort of a kitchen in Sydney with Japanese cooking classes or a French dessert-making class. She can learn everything from how to make hearty ramen to how to make sweet and delicate macarons. With our diverse cooking classes, everyone will be tipping their chef's hat to mum in no time!
Mother's Day gifts for Pampered Mums
Mum might be a little more difficult to buy for in terms of beauty, but there are plenty of Sydney workshops that will make her glow! From fragrant soy candle making classes and perfume workshops to learning how to make organic skincare products or homemade soap, there's a wide selection of beauty-themed gifts for mum out there.
If you're looking to treat your mum to something she can use every day, then try an essential oil making class. Essential oils are all the rage nowadays with their many uses and natural ingredients. Mum can enjoy customising her own relaxing blend which she can use for sleeping, feeling more energised or even more positive.
If you're still unsure, our experience gift cards give your mother the option of choosing from our Sydney workshops and deciding what she'd like to do most. Whatever you pick, we hope this has made it a little easier. Best of luck this Mother's Day. We believe in you.